Latest Updates Featuring Nadya Nabakova
15th December
- Nadya knows it's too good to be true. After cheating on her boyfriend with her ex, he has now got the evidence on tape, and she is just waiting for it
all to go wrong. All he needs to do is send it to her boyfriend and it will all be over. After she visits him to discuss it, he makes one more move, and she knows she can't possibly resist him. Just one more time for old times' sake.
...Read More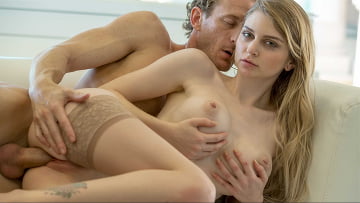 21st November
- Returning home from a long day at the office, Nadya sighs with pleasure as she strips off her staid business attire and sky-high stilettos. When she h
ears a noise, she goes to investigate and finds her husband Ryan has come home early to surprise her with a gift! Knowing his wife's passion for shoes, Ryan has brought Nadya a new pair of heels, and she eagerly models them for him before thanking him with a kiss. Their embrace becomes more passionate as Ryan can't help but get turned on by seeing his lover in just a bra, panties, stockings, and high heels that perfectly show off her slender body and big tits! Soon, Nadya is showing her appreciation for her husband's thoughtful gift with a blowjob that has him yearning for more! Before long, she's slipped off her new shoes so that she can ride Ryan's cock and treat him to a romantic foot job!
...Read More