Latest Updates Featuring September Reign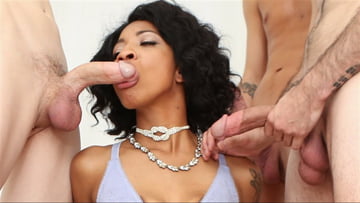 31st January
- We talk to September to find out some of her biggest fantasies before she puts on a little strip tease for the audience. It brings us into her fantasy
world where she imagines herself ravaged by 4 cocks. See, September loves the skin contrast and there's plenty of that to love with four big, white cocks ramming September's slim, tight pussy. There's plenty to go around before the studs empty their loads on her face, giving her a true White Out!
...Read More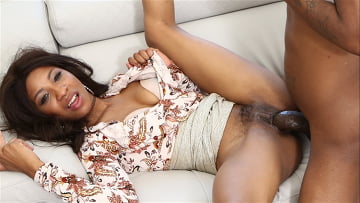 28th May
- September is very excited to see her old friend from the hood whom she had grown up with. Like alot of upwardly mobile black girls she was encouraged
to marry a white man for stability. And yes, she does have the nice house in the suburbs but Rick can just get so dry and boring. He's like dry toast. Slim Poke is the classic ghetto star - he hustled while young as a DJ, then did some time in the pen than came out and has had a successful rap career like Lil Wayne. What can she do when he comes into her crib. It's like her youth all over again. She just has to get on top of that Slim Poke pole. It's full speed ahead and damn the torpedos her weak ass wimp white hubby will just have to learn to bust a rhyme. Septmember goes cock crazy as she gets fucked whacky in front of her pathetic hubby.
...Read More
>> CLICK HERE TO DOWNLOAD <<
18th April
- Today we get to meet the beautiful bite sized September Reign. Shes ready to put on a show and entertains us not only with her sex moves, but also a b
it of her life story. She lost her virginity to a girl in the 6th grade when she was getting her hair done. One thing led to another and her perm turned into some sensational pussy play. Thats definetly one ive never heard before, but either way she touches on that for just a moment, then continues touching on her luscious choco taco for just a bit longer. Once wet, our stud knows its time to taste her womanly juices and prepare his little one eyed minion for a journey into the deep dark unknown. September rides like a tramp and her flexibility really makes fucking her a fun new experience. Shes open to cummy facials, they even inspire her. After the load, she screams out JUST KEEP FUCKIN! I say that should be the new Team Skeet mantra, any thoughts on that Skeeters??
...Read More
29th October
- Anna Bell Peaks is a pervert, and she's got September Reign on her radar. September is having man troubles, so Anna Bell knows her window of opportuni
ty is wide open. Anna Bell knows September has never experienced the power of girl-girl loving, and she knows September will love it. Anna Bell makes her move poolside, as she's applying lotion all over September's smooth, ebony body. Anna Bell's the aggressor for sure, but it doesn't take mush for September to eat some pussy and ass. Anna Bell's going to return the favor before pulling out the toys, which is when the orgasms begin. Wait until you watch Anna Bell put September on her knees and then cum all over her beautiful face. It doesn't get much better than this!
...Read More